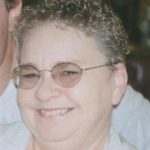 Bonnie Kay Roberts, 70, of Three Rivers, passed away on Wednesday, May 17, 2017 at her home following a very brief illness.  She was born on July 18, 1946 in Iowa City, Iowa the daughter of the late Elmer and Ilene (Blood) Gifford.
Mrs. Roberts moved to the Three Rivers area in 1952. On July 26th of 1964 Bonnie and Larry were joined in holy matrimony. Together she and her late husband ran Roberts Farms for many years.  She also worked for Denton-Mills and did clerical work for a brief time.  Bonnie enjoyed in her later years splitting wood and picking asparagus.  She has been a life time member of the 7thDay Adventist Church.
She was preceded in death by her husband, one daughter, Kelly Lyn Roberts, and one sister, Shirley Flannagan and brother, Harry Kent.
She leaves to cherish her loving memory, one daughter, Shanon (Clarence) Roberts-McClain, one son, Joseph (Elisabeth) Roberts; one brother, Thomas Gifford; three grandchildren, Larry, Jesse, and Anna Roberts; one great-grandson, Logan Slavings.  Several nieces and nephews and great-nieces and nephews.
The family will receive friends from 3:00 p.m. until 7:00 p.m. on Wednesday, May 24th, 2017 at the Hohner Funeral Home.
Funeral services will be held 11:00 a.m. on Thursday, May 25th, 2017 at the Hohner Funeral Home with Pastor David Austin of the Seventh Day Adventist Church of Centreville officiating.
Interment will be held in Riverside Cemetery.
Memorials may be donated to the Seventh Day Adventist Church. Envelopes available at the funeral home. Online condolences may be shared at www.hohnerfh.com.