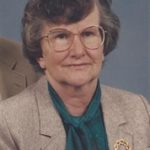 Mrs. Dorothy "Dot" Ann Ruggles, age 90, of Three Rivers, passed away peacefully at her home on Wednesday, May 10, 2017 surrounded by her loving family. She was born on August 14, 1926 in Constantine, MI. the daughter of the late Ralph and Nellie (Carnes) Johnson.
Mrs. Ruggles graduated from Constantine High School and was united in marriage to the love of her life Mr. Myrl E. Ruggles whom preceded her in death on June 14, 2007, also preceded were four brothers, James, "Windy", Jack and Wayne Johnson.
She leaves to cherish her loving memory, one son, Norman (Tonya) Ruggles, of Coldwater, MI.; four daughters, Nancy (Jack) Turner, of Beverly Hills, MI.; Carol Ruggles, of Three Rivers, Peggy Snow, of Mendon, MI., and Diane Ruggles, of Three Rivers; four grandchildren, Chauncey Harmon, of Montgomery, AL., Harvey Harmon, of Mendon, MI., Jackson and Alice Turner, both of Dearborn, MI. Six great-grandchildren, Cody and Xander Harmon, Thorne and Dykin Harmon, Lon Bair and Arianna Cantwell. One brother, Guy "Dick" (Irma) Johnson, of Constantine. Three sisters-in-law, Irene Castleberry, Margaret and Loretta Johnson and a very special friend Sue Wolfe. Many nieces and nephews.
The family will receive friends from 11:00 a.m. until the time of services at 1:00 p.m. on Monday, May 15, 2017 at the Hohner Funeral Home with Pastors Marilyn Schlimgen and Sam Maddox officiating.
Interment will be held in Constantine Cemetery. Memorials may be donated to the Alzheimer's Association or the Habitat for Humanity of St. Joseph County. Envelopes available at the funeral home. Online condolences may be left at www.hohnerfh.com.