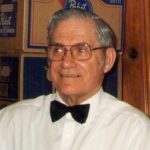 Eddie Lee Shearer, age 90, of White Pigeon, passed away Sunday, May 21, 2017 at the Community Health Center in Coldwater. He was born September 22, 1926 in Elkhart, a son of Howard and Edyth (Sharp) Shearer. Eddie served in the US Army during WWII. In December 1963, he married Barbara Wayer in Elkhart. She preceded him in death on February 8, 2014. Eddie and Barb were owners & operators of Riverview Tavern, (Ma's Place) for 60 years.
Surviving are sons Michael (Danni) Shearer, Goshen, IN and Terry Shearer, White Pigeon, grandchildren Lauren (Gary) Neverske, White Pigeon, Tiffani (Jovan) Howard, Elkhart, Courtney (Ken) Bracket, Burr Oak, Juliet Wilson, Goshen, and Joshua Shearer, Goshen, great grandchildren Artez and Ariyah Howard, Ayden Neverske, Femia and Kenny Bracket, and one on the way, and sisters in law Phyllis Shearer and Barbara Shearer. He was preceded in death by his father and step mother Howard and Treva Shearer, mother, wife, brothers Art, Bob and Don Shearer, and sister Norma Bloom.
Relatives and friends will be received Thursday from 12 -2 pm at Eley Funeral Home in Constantine, with services following at 2 pm. Pastor Mike Shearer of Community Church of Waterford will officiate. Interment will be at Fort Custer National Cemetery in Augusta, MI. Memorial contributions may be made to the family. Online messages may be left for the family at www.eleyfuneralhomes.com.