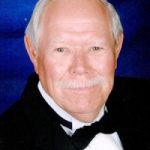 Mr. Edwin Dale Loomis, age 79, of Mears, passed away Monday, May 8, 2017, at home. He was born Oct. 31, 1937, in Constantine, to Vernon and Anna Louise (Winship) Loomis.
Edwin graduated from Constantine High School in 1955 and the Achmie School of Tool and Die. He was employed at Chicago Telephone Supply Corp. in Elkhart, Ind. for 40 years, until his retirement. Edwin married his high school sweetheart, Norma Dick on June 20, 1959.
Edwin was a great outdoorsman, enjoyed fishing and hunting. He coached basketball for the church league, and won a first place championship. He and Norma traveled and wintered in Bradenton, Fla. and Honolulu, Hawaii. Edwin loved his dog, Michelangelo.
Edwin is survived by his wife: Norma Loomis; two sons: William Dale (Pamela Kilburn) Loomis and James Vernon (Beryl Moore) Loomis; five grandchildren, Matthew Loomis, Nicole Loomis, Jesse (Erika) Loomis, Bobbie (Steve) Wenzel, Parker Loomis; six great grandchildren, Kameron, Landon, Kaelin, Elijah, Lily Jo, Ryder; one sister: Mary Ann (Lloyd) Loomis-Hamric; nephew, Andy (Leslie) Hamric; great nephew, Michael Hamric. His parents preceded him in death.
The Memorial Service for Mr. Loomis will be Saturday, June 17, 2017, at 2 p.m. at King Funeral Home & Cremation Services-Hart with Edwin's brothers-in-law, Rev. Karl Yoder and Rev. John Wrightsman officiating. Visitation will be Saturday from 12 to 2 p.m. at King Funeral Home & Cremation Services.
The family requests that any memorials be directed to Grace Adventures Youth Camp Scholarship Fund, 2100 N. Ridge Road, Mears, MI 49436
To share memory with the family, please visit www.kingfuneralhome.net.