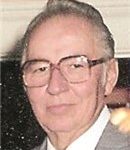 George Frank Benes, age 83, of Colon, passed away Tuesday, May 2, 2017, at Battle Creek VA Medical Center.
George was born March 1, 1934, in Brocket, N.D., a son of the late John and Frances (Slamel) Benes.
He had served in the U.S. Army and was stationed in Germany.
George graduated in 1968 from Loyola University in Chicago with a Bachelor of Arts in management.
On May 14, 1956, he married Pauline E. Weiss in Frankfurt am Main, Germany.
George retired in 1991 to his home on Long Lake in Colon. He had been self-employed in the real estate business.
He was a member of Colon Kiwanis Club, Colon Lions Club and Colon American Legion Post #454 and the VFW.
He is survived by his wife, Pauline E. Benes of Colon; two daughters, Andrea (Chris) Kreutzkampf of Minier, Ill., and Ilona (Scott) Lee of Lombard, Ill.; four grandchildren, Miranda, Mitchell and Emily Kreutzkampf and Danielle Lee; a brother, James Benes of Lansing, Ill.; and several nieces and nephews.
He was preceded in death by a brother, Jerry Benes.
The family will receive relatives and friend from 11-noon Saturday, May 6, 2017, at Schipper Funeral Home in Colon. Funeral services celebrating the life of George F. Benes begin at noon Saturday, with Fr. Anthony of St. Barbara's Catholic Church in Colon officiating. Burial will follow in Burr Oak Township Cemetery in Burr Oak. Military honors will be conferred by the U.S. Army Honor Guard and Colon American Legion Post #454.
If desired, memorials may be made in memory of George to either Colon Kiwanis Club or Colon Lions Club. Envelopes are available at the funeral home.