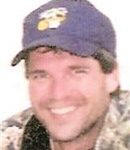 Gregory John Wilson, age 47, of Colon, passed away unexpectedly May 4, 2017, at his home.
Greg was born July 12, 1969, in South Bend, Ind., a son of John William and Sharlene Sue (Krizman) Wilson.
He grew up in Granger, Ind., graduating in 1987 from St. Joseph High School in South Bend. He continued his education at Indiana University, graduating in 1992 with a Bachelors of Arts degree.
In 1997, Greg married Camille Gilbert.
After graduating from IU, he worked as a property manager for Edward Rose & Sons of Portage and later for Walmart Distribution Center in Coldwater and other manufacturing facilities.
Greg was an avid golfer, snow skier, deep-sea fisherman, followed the Dallas Cowboys and NASCAR and was a great sports fan, especially supporting his son's sporting events.
He is survived by Camille Wilson and a son, Dane Wilson, both of Colon; his mother, Sharlene Wilson of Granger; two sisters, Gail (Joe) Ryan of Fort Wayne, Ind., and Deborah Ward of Edwardsburg; and nieces and nephews Daniel, Shawn, Erin and Caitlyn Ryan, Ashley (Michael) Goepfrich, Lindsay (Ian) Ward and Sarah Ward.
He was preceded in death by his father, John Wilson; and a niece, Annie Ryan.
A memorial service celebrating the life of Gregory J. Wilson will be at 2:30 p.m. Sunday, May 21, 2017, at Colon United Methodist Church, with the Rev. David J. Farrell officiating. Fellowship with family and friends will follow from 3-5 p.m. in the church fellowship hall.
In lieu of flowers, the family suggests memorials be made in memory of Greg to either Colon Athletic Booster Club or the Dane Wilson Education Fund. Envelopes are available at the church or at Schipper Funeral Home in Colon.