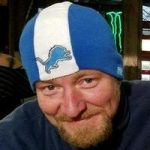 Larry D. Smith, Jr., age 42, of Centreville, passed away on Sunday, May 7, 2017, at Borgess Medical Center after sustaining injuries from a motorcycle accident. He was born in Sturgis on July 16, 1974, a son of Connie Schaeffer and Larry D. Smith. Larry attended Centreville Public Schools with the class of 1993. On July 18, 2009, he married Aubrey Watkins in Sturgis. Larry worked at Grand Design RV in Middlebury.
Larry was the kind of guy who would do anything for anyone. A hard working, loving husband, father, brother and friend. You would often find him watching sports, rooting for the Detroit Lions, Red Wings and Michigan Wolverines. He enjoyed being outdoors where he would go fishing, ride motorcycles, canoe, camp, and golf.
Larry is survived by his wife Aubrey Smith, Centreville; mother Connie (Carl) Deeds, Sturgis; father Larry (Wanda) Smith, Oregon; children Caitlyn Clipfell, Colon, and Asia and Thai Pratel, Centreville; siblings Valerie Deeds (Jeff Maruer), Virginia, Brett (Srey) Deeds, Ohio, Charlene Gump, Arizona, Justin (Nikki) Deeds, Centreville, Amy (Jim) Jameson, South Lyon, Keith Smith, Leonidas, and Angela (Casey) Tesman, Sturgis; grandmother Rosemary Sponseller, Sturgis; grandfather Kenneth (Sylvia) Schaeffer, Howe; several nieces and nephews; and his dog, Tiny.
Relatives and friends will be received Thursday, May 11 from 3-7 at Eley Funeral Home, Centreville. Funeral services will be held on Friday at 11, with an hour of visitation from 10-11, at Firm Foundations Ministries, Centreville. Interment will follow at Prairie River Cemetery, Centreville. Memorial contributions may be made to the family, c/o Aubrey Smith. Online condolences may be left for the family at www.eleyfuneralhomes.com.