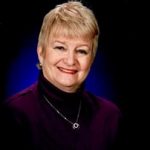 Marilyn Jean Fraizer, 71, of Three Rivers passed away on Sunday, April 30th, 2017 after a long and courageous battle with cancer. She was born a triplet along with her brother William and sister Linda of February 28th, 1946 to Delbert and Edythe (Rice) Cooley. She grew up most of her life in Warren, Ohio where she attended school until midway through her senior year when the family moved to Three Rivers where she graduated from high school. Marilyn was an active member of Riverside Church in Three Rivers and participated in numerous bible study groups, church activities, and mission trips. She thoroughly enjoyed traveling, going to yard sales, and socializing with her huge network of friends from all walks of life. She loved her family deeply and gave all she had to care for them throughout their struggles and triumphs.
Marilyn was preceded in death by her parents and her sister Linda. She is survived by her brother William (Sandra) Cooley, daughter Tawnya (Rodger) Barden, her beloved niece Danielle (Bill) Jester, and nephews Edward Cronin, Patrick (Malissa) Cronin, Mark Cooley, their families as well as an extended family of cousins.
The family will receive friends beginning at 1:00 p.m. and a prayer service will begin at 2:00 p.m. on Saturday, May 6th, 2017 at Hohner Funeral Home, 1004 Arnold St., Three Rivers with Pastor John Booko officiating.
In lieu of flowers the family requests donations be sent to St. Joseph County Animal Control, P.O. Box 252, 652 E. Main St., Centerville, MI 49032, Three Rivers Health Homecare and Hospice, 633 S. Erie St. Ste. B, Three Rivers, MI 49093, or West Michigan Cancer Center, 200 N. Park St, Kalamazoo, MI 49007. Envelopes also available at the funeral home. Online condolences may be left for the family at www.hohnerfh.com.