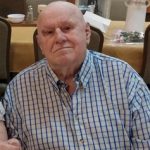 Marvin Van Scoik, age 90, Three Rivers died on Tuesday, May 9th at 8:30 pm, at his home following a lengthy illness. He was born in Fulton County Indiana, on December 8, 1926 the son of Charles (Berlin) and Laura (Fay) Van Scoik, Elkhart, Indiana.
The family moved to Three Rivers in 1954 because of employment with the US Postal Service. Marvin worked at Bonfoey Dairy with a delivery route to many residences in the Three Rivers area. He had lengthy career at the G&A Truck lines, and Continental Can until his retirement 1990.
He is survived by his wife Wanetta (Postma), children: Linda (Keith), Steven (Lynda), Tony, Lisa, and Scott (Susan). Son Jack (Brenda) deceased. He is survived by 17 grandchildren, 32 great grandchildren.
A memorial service will be held at 2:00 p.m. on Saturday, June 3, 2017 at Three Rivers Church of God, 17398 M-86, Three Rivers, MI 49093. Memorial donations may be directed to the family of Marvin Van Scoik c/o Wanetta Van Scoik, 14481 Burlew Rd, Three Rivers, MI 49093. Online condolences may be shared at www.hohnerfh.com.