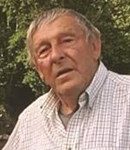 Paul Douglas Abrams, 81, of Shipshewana, died on Tuesday, April 25, 2017, at his residence.
He was born on Aug. 15, 1935, in Three Rivers, to Ernest and Margaret (Douglas) Abrams.
On Aug. 2, 1958, he married Catherine Pierson. She survives.
Survivors in addition to his wife are two daughters, Christine (Douglas) Pagels of Sturgis, and Teresa Abrams of Three Rivers; son, Steven (Kimberly) Abrams of White Pigeon; six grandchildren; two step-grandchildren; four great-grandchildren; two sisters, Monna Zeltner of Myrtle Beach, SC and Debbie (Tom) James of Three Rivers. He was preceded in death by his father, Ernest Abrams and his mothers Margaret Douglas and Marchellina Abrams.
Paul was a veteran and served in the Air Force and the Army Reserves. He was a self-employed TV repairman, a unique inventor, and could fix anything. He enjoyed spending time at the airport, living on the lake and had many friends.
The family will hold a private memorial service. Memorial contributions may be given to Dementia Society of America. Online condolences may be sent at millerstewartfuneralhome.com.