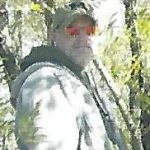 Prentice Wayne Dollins, age 49, of Three Rivers, formerly of Dowagiac, passed away on Wednesday, April 26, 2017 at his home surrounded by his loving family. He was born on Oct. 23, 1967 in Dowagiac, the son of the late Lloyd and Karen (Hislop) Dollins.
On Oct. 28th, 1988 Prentice was united in marriage to the love of his life Mrs. Laury (Hauch) Dollins; together they raised two boys, Justin Dollins and Joseph (Shyanna) Dollins, of Three Rivers; one brother, Jarid (Jennifer) Dollins, of Dowagiac; two grandsons, Logan and Liam Dollins; several nieces and nephews.
The family will have a celebration of Mr. Dollins' Life at 1:00 p.m. on Saturday, May 6, 2017 at the Berean Baptist Church in 7813 S. 12th St, Portage, MI 49024 with Pastor Jim Galvin officiating.
Memorials may be donated to The Dollins Family c/o Laury Dollins.
Arrangements handled by the Hohner Funeral Home. Online condolences may be shared at www.hohnerfh.com.