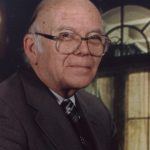 Dr. Robert Douglas Ash, Sr. PhD, age 97, of Three Rivers, passed away peacefully on Monday, May 29, 2017. Robert was born November 24, 1919 on the Sixth Avenue family farm, the only son of Orin R. and Erta Zella (Catell) Ash.
Robert helped his father run the family car business of "Orin R Ash and Son Oldsmobile", which was the first car dealership in Three Rivers area. Robert then graduated Three Rivers High School. While he attended Three Rivers High, Robert wrote the Three Rivers Wildcat "Fight" Song in 1938. Upon graduation he attended Kalamazoo College where he earned a B.A. Degree and then earned his M.A. degree from Western Michigan University where he met and married his loving wife, Alice L. Schumacher on January 27, 1944. He then attended Waldon University and completed his Doctorate in Education. Upon completing his education he taught government/ economics at Three Rivers High School before becoming principal for Berrien Springs, Cadillac, and Warren Woods Schools. Robert was superintendent of Pickney and Carrollton Schools before retiring in 1986.
Upon his retirement, Robert also interned as superintendent for Three Rivers, Mendon, Cassopolis, Eaton Rapids, and Eau Claire Schools. He also was a substitute teacher until the age of 88. He also served on the ISD Board for St. Joseph County as Vice president for thirteen years. He was always in a suit everywhere he went. Robert always took pride in spending time with his family on the farm, where he worked and restored the farm house in which he was born in. Robert was an avid Red Wings and Tigers Fan. He considered Three Rivers one of the happiest places to be.
Robert was preceded in death by his parents, wife, Alice L. Ash, grandson, Jake Michael Ash, step parent, Sadie Ash.
He leaves to cherish his loving memory sons, Robert D.(Joanne)Ash, Jr. and John Michael(Melissa)Ash; one grandson, Robert D. (Camille )Ash, III; one great grandson, Xander Ash; many cousins and friends.
The family will receive friends from 11:00 a.m. until time of services beginning at 1:00 p.m. on Friday, June 2, 2017 at Hohner Funeral Home with Rev. Derel Keefer officiating.
Interment will be at Riverside Cemetery, Three Rivers.
Memorials may be directed to St. Joseph County I.S. D., Ash Family c/o John Ash, or the Center Park United Methodist Church. Envelopes available at Hohner Funeral Home.
Online condolences may be left at www.hohnerfh.com.