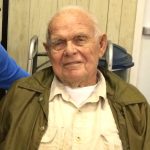 Tommee Hughes, age 98, of Leonidas, died Friday, May 26, 2017 at Thurston Woods in Sturgis. He was born on Aug. 9, 1918 in Kouts, IN the son of Nelson and Birdella (Anderson) Hughes. The family later moved to Michigan, where Tommee graduated from Colon High School in 1936. Tommee was married to Margaret Hoopingarner on April 9, 1939 in Constantine. He was a lifelong farmer and drove a school bus for Colon Schools for 24 years. He was a member of the Leonidas Bible Church, the Leonidas Farm Bureau, and Leonidas Grange. He also served on the board for the St. Joseph County Grange Fair and established the Fair Garden. He raised award winning dairy herds, and installed one of the earliest irrigation systems in St. Joseph County.
Tommee is survived by three children, Sandra (Eugene) Monroe of Forsyth, GA, Michael T. Hughes of Leonidas, and Sally Mase of Fremont, IN; six grandchildren , Lisa (Scott) Hamilton, Dawn Walters, Nancy Doub, Catherine Hart, Patricia Mase, and Tommee (Kathy Sanchez) Mase; 11 great-grandchildren; and one great-great-grandson. He was preceded in death by his parents; four brothers, Sam, Marion, Robert, and Leland Hughes; a sister, Ruth Dodson; his wife, Margaret; great-grandson, Austin Swary; daughter in law, Norma Jean Hughes.
The family will receive friends on Tuesday, May 30th from 5 to 8 pm at the Eickhoff Funeral Home in Mendon, and on Wednesday from 10:30 to 11:30 am at the funeral home. Funeral services will begin at 11:30 am Wednesday, May 31st at the funeral home with his daughter, Rev. Sandra Monroe officiating. Burial will follow in Leonidas Cemetery. Memorials may be directed to either the Leonidas Fire Department, or to Colon Public Schools to be used for an FFA Scholarship. Condolences may be expressed to the family online at www.eickhofffuneralhome.com.