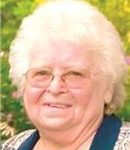 Barbara A. Colpetsir, age 82, of Colon, passed away Friday, June 2, 2017, at her home, following a terminal illness.
She was born July 14, 1934, in Kendallville, Ind., a daughter of Leland and Martha (Krueger) James.
Her early life was spent in Constantine, where she graduated from Constantine High School.
On Dec. 24, 1952, she married Clayton C. Colpetsir in Sturgis. He preceded her in death Nov. 17, 2004.
Barbara had been employed at Trans-O-Gram in Sturgis and was secretary and bookkeeper for 25 years for Clayton Colpetsir Plumbing and Heating in Colon and Function Junction Campground in Mendon.
She was a member of DAR (Daughters of the American Revolution) and St. Paul's Lutheran Church of Colon. She enjoyed deer-hunting, camping, mushrooming, crocheting, painting, cake-decorating and was very artistic. Most of all, she enjoyed spending time with her family.
Surviving are a daughter, Carolyn (Thomas) Parrish, and a son, Thomas (Gwen) Colpetsir, both of Colon, seven grandchildren; four great-grandchildren; a, sister, Linda (Huebert) Cox of Jacksonville, Fla.; a sister-in-law, Betty James of Lansing; and several nieces and nephews.
She was preceded in death by her parents; her husband; a daughter, Alice M. (Colpetsir) Thornton; a son, James C. Colpetsir; and a brother, Earl James.
According to her wishes, cremation has taken place. There will be no visitation. A private memorial service will be held at a later date, celebrating the lives of both Barbara and Clayton Colpetsir.
If desired, the family asks that memorials be made in memory of Barbara A. Colpetsir to Community Health Center of Branch County's Hospice Program or the charity of one's choice . Envelopes are available at Schipper Funeral Home in Colon, which is assisting with arrangements.