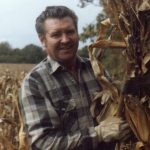 William "Bill" Martin Steinbach, age 74, of Three Rivers passed away on Sunday, June 4, 2017 at Bronson Methodist Hospital. He was born in Chicago, IL on October 24, 1942 the son of William Henry and Gertude (Miller) Steinbach.
Bill served his country in the U.S Army until his honorable discharge in 1968. He then owned and operated Floating Bridge Tool and Machine for over thirty years. On September 24, 1966, Bill was united in marriage to Nancy Henson whom survives. He was also a member of the American Legion Post #170. Bill treasured being outdoors and soaking up the warm sunshine and hot weather. He enjoyed gardening, cutting wood, baling hay and straw, and listening to the birds together with his wife, Nancy. He also cherished time with his family and grilling out on warm summer days.
Bill is survived by his wife, Nancy Steinbach of Three Rivers; daughters, Nichole Steinbach of Birmingham, AL and Michelle (Ryan) Bradford of Howell, MI; sister, Carol Quake of Three Rivers; grandchildren, William and Hayden Bradford, and Hannah Roseman.
The family will receive friends from 2:00 p.m. – 4:00 pm on Sunday, June 11, 2017 at Hohner Funeral Home. Funeral Services will be held at 11:00 am on Monday, June 12, 2017 at Hohner Funeral Home with Pastor Jerry Solis officiating. Military Honors will be conducted under the auspices of the American Legion Post # 170. Cremation will take place following services.
Bill's family has requested donations of pet food and pet supplies can be brought to the funeral home to be collected for Animal Rescue Fund of St. Joseph County.
Online condolences may be shared at www.hohnerfh.com.