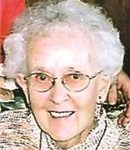 Charlene E. Finch, 88, of White Pigeon, died Thursday, June 1, 2017, at Sturgis Hospital.
She was born April 11, 1929, in Sturgis, a daughter of Carl V. and Bernice (Barnes) Crampton.
She lived in the White Pigeon area most of her life. A graduate of White Pigeon High School in 1947, she went on to graduate from Elkhart Business School.
She was employed as a secretary at South Bend Clinic, Kirsch Company and retired from KeyBank after 17 years of employment. She was a member of White Pigeon United Methodist Church, Mintdale Women's Club, Three Rivers Chapter #210 Order of the Eastern Star, St. Joseph County Historical Society and Michiana Audubon Club.
On Nov. 24, 1955, she married Harley U. Finch in White Pigeon. He died Feb. 22, 1986.
She is survived by a daughter, Felicia Finch; a son, Curtis (Karen) Finch; a daughter-in-law, Phyllis Finch; five grandchildren; five step-grandchildren; several step-great-grandchildren; and several nieces, nephews and cousins. She was preceded in death by her parents; her husband; a stepson, David Finch; and a brother, Lee Crampton.
Relatives and friends may call from 5-8 p.m. Monday at Farrand Funeral Home in White Pigeon. Services are at 11 a.m. Tuesday at the funeral home, with the Rev. Ed McCutchan officiating. Interment will be in White Pigeon Township Cemetery.
Donations may be directed to St. Joseph County Historical Society or the charity of one's choice .