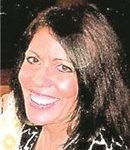 Connie Sue Sorko-Ram Budfuloski, age 55, of Sturgis, passed away peacefully Friday, June 9, 2017, at her home.
She was born Aug. 11, 1961, in St. Paul, Minn., a daughter of the late Paul Ollie and Patricia (Burns) Sorko-Ram.
Connie resided most of her life in Sturgis.
She had been employed as a certified medical financial biller for the Westside Clinic in Kalamazoo.
She was attending Grace Christian Fellowship Church in Sturgis.
Connie was actively involved in Teen Challenge in Muskegon and Celebrate Recovery. She enjoyed cooking, gardening, cleaning and baking. Her famous chocolate chip cookies among other baked goods will be forever missed. Connie cherished times surrounded by family and truly loved being a grandmother. She loved life and all of God's creations from big to small, especially if she could dress them in goofy outfits. She loved to laugh and would constantly go out of her way to make any situation a silly one.
Connie was a loving and caring person who always put other's needs before her own.
She is survived by her children, Micah Raphael Mechling and Malachi Moriah Mechling, both of Sturgis, Brandon David Budfuloski of Texas, Shaina Rachel Budfuloski of California, Jacob Paul Budfuloski of Colon and Jordan Lindsey Budfuloski of California; her grandchildren, Malachi, Aireana, Jaeda, Sydney, Logan, Jacklyn, Katherine, Nicholas, Jackson and Parker; three sisters, Sharon (Jeffery) Wickey of Sturgis, Peggy Byers of Vicksburg and Nancy Watreas of Mishawaka, Ind.; two brothers, John Sorko-Ram of Maitland, Fla., and James (Elizabeth) Sorko-Ram of Kalamazoo; and several nieces and nephews.
She was preceded in death by her parents; a brother, Joseph Michael Sorko-Ram; and a nephew, Andrew Wickey.
The family will receive friends from 10-11 a.m. Wednesday, June 28, 2017, at Grace Fellowship Church, 300 Timothy St., Sturgis. Funeral services celebrating and honoring the life of Connie Sue Sorko-Ram Budfuloski will immediately follow the visitation at 11 a.m. Wednesday. Connie's brother-in-law, Jeffery Wickey, will officiate. A graveside committal will follow the service at Sturgis Memorial Gardens in Sturgis.
The Hackman Chapel of Hackman Family Funeral Homes, 114 S. Nottawa St., Sturgis, is entrusted with the arrangements.
The family suggests those wishing to make a memorial donation in Connie's memory consider Teen Challenge, 440 E. Pontaluna Road, Muskegon, MI 49444; or Celebrate Recovery, c/o Riverside Church, 207 E. Michigan Ave., Three Rivers, MI 49093.
Her obituary is also at www.hackmanfamilyfuneralhomes.com, where personal messages of support may be left for the family.