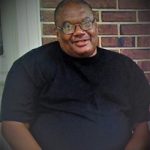 Mr. Curtis Lee Martin, age 68, of Three Rivers, passed away on Saturday, May 27th, 2017 at the Bronson Methodist Hospital following a brief illness. He was born on August 25th, 1948 in Magnolia, Mississippi the son of the late Leslie Martin Sr. and Mrs. Nercille (Mixon) Martin.
Mr. Martin served his country honorably in the U.S. Army and later married his wife Mrs. Rosemary Martin. He leaves to cherish his loving memory many family members and friends.
The family of Mr. Curtis Martin will receive friends from 11:00 a.m. until the time of services at 1:00 p.m. on Saturday, June 3, 2017 at the Hohner Funeral Home 1004 Arnold St., Three Rivers, MI. 49093 with Pastor Tony Bennett officiating.
Interment will be held at 11:30 a.m. on Tuesday, June 6, 2017 at Fort Custer National Cemetery.