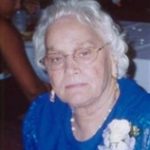 Helen Virginia Huskey passed away on Friday, June 2nd, 2017, at the age of 91 in Alamo Nursing Home of Alamo Township, MI. She was born on August 23rd, 1925, the daughter of the late Buster Thomas and Lula Evelyn (Hudgen) Long.
Helen is preceded in death by her husband of 39 years Curtis Huskey, son Barry Huskey, and siblings Charles Long, Hershal Long, Roscoe Long, and Rebah Faulkner.
She is survived by sons Dwight (Sharon) Huskey and Wade (Georgette) Huskey. She also leaves behind grandsons Greg (Raeanne) Huskey, Brian (Jennifer) Huskey, Adam (Kim) Huskey, and granddaughters Lori Koutny and John Peterson, Rob Bohnke, Brooke (Rich) Cole, Ashley Huskey, and Jessee Sonke. She is also survived by 16 great grandchildren and 2 great great grandchildren.
Helen was a lifelong Christian and member of Faith Fellowship Church in Schoolcraft. One of her favorite scriptures being the 23rd Psalm.
The family will receive friends from Wednesday, June 7, 2017 from 2-4 and 6-8 p.m. at Hohner Funeral Home in Three Rivers. Funeral Services will take place at 11:00 a.m.  on Thursday, June 8th, 2017 at Hohner Funeral Home to be followed with a luncheon at noon before proceeding to Riverside Cemetery in Kalamazoo.
Interment will be at Riverside Cemetery, Kalamazoo.
In lieu of flowers the family has asked that any donations be made to the American Diabetes Association or The Faith Fellowship Church of Schoolcraft. Envelopes available at Hohner Funeral Home.