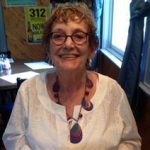 Mrs. Jane Elizabeth Swartwout, age 85, of Three Rivers, passed away at Three Rivers Health on  Monday, June 26, 2017. Jane was born on August 1, 1931 in Three Rivers, the daughter of Michael and Mary (Zellak) Boggio.
After earning her Associate's Degree, Jane worked as a registered nurse for many years at Three Rivers Hospital and in short term care facilities in Florida.   At one time, there were 3 generations of registered nurses working at Three Rivers Hospital; Jane Swartwout, her daughter Linda Vanderheyden and granddaughter Elizabeth Munro.
She was a loving follower of her Savior Jesus Christ.  She most recently attended 9th Street Methodist Church in Three Rivers.  She was involved in several groups such as the COA, Fraternal Order of the Eagles, and The American Legion. She was also an American Contract Bridge League Life Master.
Jane is preceded in death by her loving husband Lorenzo Barry Swartwout, her first husband (and father of her five children) Raymond Walter Smagala, and her parents. She is survived by her children Mary Jo (Guy) Stieglitz, Linda (Joe) Vanderheyden,  Ann (Terry) Herschberger, Raymond Smagala and Mark (Julie) Smagala.    She is also survived by 12 grandchildren and 14 great-grandchildren, her brother James Boggio and sister-in-law, Mary Ann Gifford.
Jane was lovingly known as "Busha" to her grandchildren and great-grandchildren.  She tried her best to communicate with advanced technology such as Facebook and texting but that didn't really work out.   Instead, her cellphone  would be by her fingertips, ready to call her kids, grandkids and great-grandkids to keep in touch with their daily activities.
She NEVER missed a family member or friend's birthday.  She would send a card, but often would get the birth dates mixed up and send a card to the wrong person or on the wrong day.  Her cards were always appreciated and we would  laugh along with her when her birthday greetings mis-fired.
Per the family's request, cremation has taken place. The family has asked that friends and family join them for a visitation and celebration of life . This will be held at Riverside Youth Center at Riverside Church in Three Rivers, on Friday, June 30, 2017. The visitation will be from 2 p.m. – 4 p.m. and the celebration of life will follow.
Donations in memory of Jane Swartwout may be made to 9th Street Methodist Church in Three Rivers.