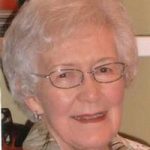 Jean Pascoe, 91, passed away on Saturday, June 10, after living an adventure filled life. She was born in Galien, Michigan, but ended up traveling the world with the love of her life, Ed Pascoe.
Salutatorian of her senior class, she graduated from Galien High school and attended University of Michigan for a year before marrying Ed and settling down in Fort Wayne, Indiana.
Ed was transferred by Dana Corporation to Toledo, Ohio. Together they eventually lived in both Taipei, Taiwan, and Seoul, South Korea, while Ed worked for Dana International. They also traveled the world for both business and pleasure.
Ed Pascoe Sr. died in 1994. Jean is survived by her children Shari Pascoe Wentz (Don) of Livermore, CA, Ed Pascoe Jr. (Lesley) of Carmel, IN, and Linda Pascoe Adams (Joe) of Toledo, OH, and her sister, Janet Brezen of Dowagiac, MI. Jean has 8 grandchildren and 7 great grandchildren.
Special thanks to the The Stratford at West Clay in Carmel, IN, for their loving care in her later years. A private celebration of Jean's life will be held in July in Constantine.  Online condolences to www.reebfuneralhome.com or www.eleyfuneralhomes.com