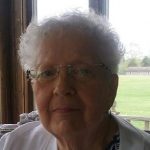 Jeannine Ann Mohney, age 81, of Three Rivers passed away on Friday, June 2, 2017 at Heartland Healthcare Center. She was born in Whiting, IN on September 25, 1935 the daughter of Howard and Letha (Parrish) Ruple.
In her younger years she loved to skate and dance. She loved to skate at the former Pap's Open Air Rink in Three Rivers. Jeannine worked for Hudson Drug Store during her senior year of High School. She went onto to attend Wright Beauty Academy and worked for five years at Mary Ellen's Beauty Shop. Jeannine was also employed at American Bank and eventually retired from Old Kent Bank in Kalamazoo.
Jeannine was a member of Three Rivers Eagles # 2303 where she achieved Golden Eagle. She enjoyed playing euchre games during many weekdays and working with local committees planning class reunions and dinners. She loved camping and was seasonal at Green Valley in Sturgis, MI for many years.
She leaves to cherish her loving memory husband, Lee Mohney whom were united in marriage on October 28th, 1961. Daughter, Michelle (James) Goodman of Mendon; son, Jeff (Judy) Mohney of Three Rivers; grandchildren, Mike (Alicia) Goodman, Justin Goodman, Zach Goodman and Leanna (Tyler) Crew, Tyrel, Keith, and Chris Bondaredich; great grandchildren, Zoey, Alexis, and Jeffrey Goodman; Joseph George, Paige, Jude, and Grayson Crew; Blake, Mitch, James, and Connor Bondaredich.
In accordance with family wishes cremation will be conducted and a visitation service celebrating Jeannine's life will be held at 11:00 a.m. followed by a memorial service at noon on Sunday, June 11, 2017 at Three Rivers Eagles # 2303, 715 E. Hoffman St; Three Rivers, MI 49093 with Pastor Doug Swartz officiating.
Memorial donations may be directed to the family c/o Lee Mohney. Online condolences may be shared at ww.hohnerfh.com.