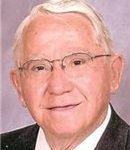 Jerry Yoder, age 91, of Burr Oak, died peacefully at home Thursday, June 22, 2017.
Jerry was born Sept. 30, 1925, in Arthur, Ill., a son of the late Daniel and Laura (Christner) Yoder.
Jerry had made his home in St. Joseph County most of his life, coming from Geneva, Ind. He also had wintered in Sarasota, Fla., for more than 50 years.
On May 17, 1945, he married Alma Hochstetler. She preceded him in death Feb. 5, 2006, after 60 years of marriage.
Jerry had farmed, had a used car business and also was in the popcorn business.
He was a member of Calvary Chapel in Sturgis and an honorary member of Gideons.
He is survived by two daughters, Margery (Thomas) Miller of Sherwood and Sharoldine (Harold) Carpenter of Burr Oak; three sons, Larry (Cherie) Yoder of Sherwood, Lowayne (Phyllis) Yoder of Sturgis and Lavon (Valerie) Yoder of Mendon; a daughter-in-law, Esther (Larry) Mast of Mendon; 20 grandchildren; 82 great-grandchildren; two step-great-grandchildren; three great-great-grandchildren; four sisters-in-law, Anna (Mahlon) Yoder, Sally Hochstetler, Anna Mae Miller and Alice Miller; and many nieces and nephews.
In addition to his parents and wife he was preceded in death by a son Richard Yoder; great-grandson Bret Bontrager; his siblings, David, Clara, Bessie, George, Virgil, Moses, Mahlon, Merrill and Lloyd.
The family will receive relatives and friends from 2-7 p.m. Saturday at Calvary Chapel in Sturgis. Funeral services will be at 2:30 p.m. Sunday, June 25, 2017, at Calvary Chapel, with Pastors Dana Stauffer, Harold Carpenter and Thomas Miller officiating. Burial will follow in Calvary Chapel Cemetery.
In lieu of flowers, memorials may be made to Gideons. Envelopes will be available at Calvary Chapel or Schipper Funeral Home in Colon.