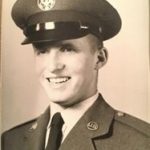 Kenneth Wayne Boughton, age 76, of Three Rivers passed away on Sunday, June 11, 2017 at Borgess Medical Center. He was born in Three Rivers on December 6, 1940 the son of Nolan and Orlean Boughton.
Mr. Boughton attended schools in Three Rivers and graduated with the class of 1958. In February of 1959, Kenneth joined the U.S. Air Force and was first stationed in Lackland AFB in San Antonio, TX where he met and married his wife Yong Tok "Vicky" in 1962. Upon returning to the U.S., Ken was once again stationed at Lackland AFB where he completed his four and a half year career in September of 1963.
After his honorable discharge he and Yong returned to Three Rivers where he began work at Kadant Johnson, Inc. During that first year, Ken attended a tool and die design school in South Bend along with working second shift in the Research Dept at Kadant Johnson, Inc.
In 1965 he moved to the Engineering Dept as a Product Engineer and also began a career as a Field Service Engineer traveling the world. During his career, he was a member of the American Welding Society, American Society of Mechanical Engineers, Three Rivers Jaycees and Three Rives Rotary Club. He was also a member of the First Presbyterian Church of Three Rivers/Centreville where he served a term as trustee.
Ken was preceded in death by his parents, wife, Yong Tok "Vicky" Boughton in 2014.
Ken is survived by daughters, Gail Brady of Three Rivers, Debra (Joe) Wilkins of Granger, IN; grandchildren, Michael, Jacob, Nicholas, Joshua, Brady, and Zachariah, and Emily Wilkins; many great grandchildren; brother, Richard (Bonnie) Boughton of Myrtle Beach SC; several nieces and nephews.
The family will receive friends from 5:00 p.m. – 7:00 p.m. on Thursday, June 15, 2017 at Hohner Funeral Home.
Funeral Services will be held at 11:00 a.m. on Friday, June 16, 2017 at First Presbyterian Church of Three Rivers/Centreville with Rev. Brenda Deily officiaiting.
Intement will be held at Riverside Cemetery, Three Rivers.
Memorial donations may be directed to First Presbyterian Church and Three Rivers Rotary Club. Online condolences may be shared at www.hohnerfh.com.