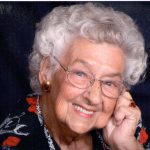 Lathorlyn A. Balk, age 87, passed away on Tuesday, June 27, 2017 at Grace Health Care of Three Rivers. She was born in Centreville on June 10, 1930, a daughter of Richard and Virginia (Sloan) Hagelgans. She graduated from Centreville High School in 1948. On August 7, 1948, she married Neubert Balk in Centreville. He preceded her in death on August 18, 1996. Lathorlyn worked at the St. Joseph County Sheriff's Department for over 25 years, where she was Head Matron, worked in the corrections office, dispatcher, secretary, and clerk. She also worked previously at Continental Can in Three Rivers, St. Joseph County Road Commission, and on the family farm. She was a member of the St. Paul's Lutheran Church, Ladies Aid at St. Paul's Church, Fairview Auxillary, and the Michigan Sheriff's Association. She enjoyed taking care of people, playing the organ, camping, shopping, knitting, crocheting, and spending time with her family.
She is survived by her daughter Brenda (Patrick) Priest of Centreville, son Brad (Rose) Balk of Centreville, son William (Christine) Balk of Centreville, foster son Dennis (Vicki) Allen of Centreville, grandchildren Dawn (Keith) Heitkamp, Mark (Heather) Lillywhite, Bryan (Carrie) Balk, Erin (Brian) Ettwein, Adam Balk (Rachael France), and Travis (Jessica) Balk; 10 great-grandchildren, brother Robert (Judy) Hagelgans, sister Rosanne Harmon, sister-in-laws Rhoda Lantz and MaryLou Hagelgans, brother-in-law Ken Balk, and several nieces and nephews. She was preceded in death by her parents, husband, daughter and son-in-law Diane (Robert) Henkel, sister and brother-in-law Joyce (Preston) Thigpin, brother Richard C. Hagelgans, Jr., brother Neil Hagelgans, brother-in-law William Harmon, and sister-in-law Wanda Balk.
Relatives and friends will be received on Friday from 4-8 pm at Eley Funeral Home in Centreville. Religious services will be held on Saturday at 11 am at St. Paul's Lutheran Church in Centreville. Interment will be in Prairie River Cemetery. Memorial contributions may be made to the Ladies Aid of St. Paul's Lutheran Church. Online condolences may be left for the family at www.eleyfuneralhomes.com.