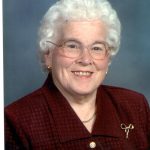 Mary E. Granger, age 86, of Goshen, passed away on Saturday, June 24, 2017 at the home of her daughter, surrounded by her family. She was born in Hope, MI on September 22, 1930, a daughter of Fredrick and Francis (Clark) Braley. She attended Hope public school, later receiving her GED in 1982. On April 8, 1948, she married Vern Granger, Sr. in Fowlerville, MI. He preceded her in death on October 27, 2008. Mary was a devoted mother and pastor's wife. She was an avid knitter and enjoyed every minute spent with her family and church family.
Mary is survived by 7 children, David (Diane) Granger of Leesburg, IN, Dr. Diane (Richard) Cook of Elkhart, Daniel (Jane) Granger of Fountain Hills, AZ, Jean (Tom) Lantz of Syracuse, IN, John (Deborah) Granger of Constantine, Linda (Jeff) Kercher of Goshen, and Bud (Jeanette) Granger of Constantine; 26 grandchildren; 54 great grandchildren; 2 great-great grandchildren; and other extended family. She was preceded in death by her parents, husband, sisters Margaret, Elnora, and Bessie, brothers Arthur and Andrew, and grandson Deven Granger.
Relatives and friends will be received Tuesday from 6-8 at Eley Funeral Home, Constantine, and on Wednesday from 10-12 at Zion Missionary Church (1135 E Hively Ave, Elkhart, IN 46517). Religious services will follow on Wednesday at 12 with Pastor Bud Granger officiating. Interment will be in Constantine Township Cemetery at 4:30. Memorial contributions may be made to Prairie Bible College. Online condolences may be left for the family at www.eleyfuneralhomes.com.