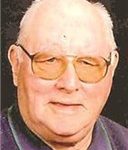 Robert D. Phillips, 86, of Fish Lake, White Pigeon, died Monday, June 26, 2017, in Pioneer, Ohio.
He was born Sept. 26, 1930, in Sturgis Township, a son of Myrl and Helen (Leeth) Phillips.
He had been a White Pigeon area resident all his life. He was employed for 39 1/2 years at Kirsch Company, as a machine operator, retiring in 1992.
He was a veteran of the U.S. Army, serving during the Korean War. He was a member of American Legion Post #73 in Sturgis. he enjoyed yard work, golf, sports, and was a devoted Detroit Tigers and Detroit Lions fan. He enjoyed watching the White Pigeon Chiefs.
On Dec. 7, 1974, he married Joan E. (Kunz) Douglas in White Pigeon. She survives, along with a daughter, Sandra (Stan) Nichols of Colon; a son, Larry (Kimberly) Phillips of Scottsville; a foster daughter, Teia Werner of Florida; grandchildren Sean and Chelsea Phillips; a great-granddaughter, Haley Phillips; a sister, Janet (Pete) Shears of Sturgis; and a brother, Leland Phillips of Tennessee.
He was preceded in death by his parents; a stepson, Carl Allen Douglas; stepmother Mildred Phillips; two stepfathers, Tom Sivits and Vic Carlson; a sister, Margaret Clow; a brother, Gerald Sivits; and a great-granddaughter, Katherine Phillips.
Visitation will be from 10 a.m.-noon Saturday, July 1, 2017, at Farrand Funeral Home in White Pigeon. Services will begin at noon Saturday at the funeral home, with the Rev. Scott Manning officiating. Interment will follow with full military rites in White Pigeon Township Cemetery.
Donations may be directed to White Pigeon Athletic Association; or Constantine United Methodist Church.