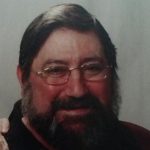 Tony R. Kucinich, age 64, of Jones, passed away on Thursday, June 22, 2017 at his home surrounded by his family and close friends. He was born in Three Rivers on October 29, 1952, a son of Anthony Kucinich and Elma Johnson. He graduated from Rice High School in Elkhart in 1970 and went on to serve in the U.S. Army. On October 28, 1988, he married Mary Hobbs Bolton in Elkhart. Tony worked for several years at United Express Line in Bristol, becoming disabled in 2001. He was a member of the Mottville American Legion and Porter Baptist Church. Tony enjoyed bowling, golfing, and was a lifelong "Packer Backer".
Surviving Tony are his wife Mary Kucinich, daughter Angie (Kevin) Wogoman, son Dan Bolton, son Chuck (Amanda) Bolton, grandchildren Mikayla Baker, Jordan Bolton, Ben (Angel) Wills, Arianna Bolton, and Kennedy Wills, sister Patty (Bill) Hasha, brother-in-law Clarence (Carol) Hobbs, his beloved dog and side-kick Lorenzo, half sisters D. Carol Daily and Sally Bingham, half brother James Kucinich, and numerous aunts, uncles, and cousins. He was preceded in death by his father Anthony Kucinich and mother and stepfather Elma (Augustus) Reich.
Relatives and friends will be received on Monday from 4-6 at Eley Funeral Home, Constantine, where religious services will follow at 6 pm. Pastor Randy Peterson (Porter Baptist Church) will officiate. Memorial contributions may be made to the family or Heartland Hospice of Portage. Online condolences may be left for the family at www.eleyfuneralhomes.com.