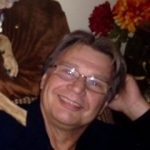 Boris Oliynyk, age 64, raised in Willimantic, Connecticut and of the Michiana area – Three Rivers and Elkhart.
At the hospice house of the Center for Hospice Care, surrounded by loved ones, he passed on Monday morning, June 26, 2017 after over a yearlong battle against cancer.
Boris was born in Lyon, France, the son of William and Irene (Yarmola) Oliynyk.
He is survived by his children, son Ryan Oliynyk of Three Rivers, daughter Clairissa Oliynyk of Elkhart; mother Irene Oliynyk of Willimantic, Connecticut; sisters Lydia Fedotoff of Walnut Creek, California, Olga Meherhoff of Willington Connecticut, niece Jessie Mehrhoff of Washington DC; two nephews, Nick (Lauren) Fedotoff and Brian Fedotoff, great-niece Reese Fedotoff; and former wife and mother of the children, Kim Gaines of Elkhart.
He was preceded in death by his father William Oliynyk and his youngest sister Helen Oliynyk, who was also a victim of cancer.
Boris graduated from the University of Hartford, with an associate degree in computer science. He went on to work for AT&T Inc. as a network engineer for 32 years, both out of a home office and traveling on the road.
Boris's philosophy in life was to do whatever made you happy. The things that brought him happiness in life were his family, traveling, the water, sailboats among other nautical things and his Harley Davison motorcycle.
In honoring his wishes, cremation was chosen.
Services celebrating Boris's life will be held at a later date.
Arrangements are under the care of Billings funeral home of Elkhart.
The family requests memorials to a local cancer society near where you live.
To share condolences or memories of Boris with his family please visit www.billingsfuneralhome.com.