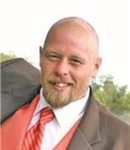 Brian Karl Fox, age 41, of Sturgis, passed away Monday morning, July 10, 2017, in LaGrange County, Ind., due to injuries sustained in an automobile accident on the Indiana Toll Road.
He was born May 26, 1976, in Kalamazoo, a son of Karl and Mary (Jenner) Fox.
Brian resided nearly his entire life in the Sturgis area and was a graduate of Sturgis High School with the class of 1994.
On Oct. 11, 2008, shortly after their 10th anniversary of being together, he married Michelle "Shelly" Hendrick in Sturgis.
He was currently employed by Monroe Restoration in South Bend. For 18 years, he had worked in the concrete business with Lung's Concrete in Sturgis and he worked for Lippert Components in Middlebury, Ind., for five years.
Brian enjoyed playing softball and had a true appreciation for the outdoors, especially when he was hunting or fishing. He loved spending time with his wife and his dog Jax.
He is survived by his wife, Shelly; his parents, Karl and Mary Fox of Sturgis; a brother, Pat (Lisa) Fox of Gregory; a sister, Lorianne (John) Seeley of Chesterfield; nieces and nephews Brittany, Erica and Ryan Fox, Jack and Ben Seeley, and Alex and Christopher Maloy; his father-in-law and mother-in-law, Hank and Sue Hendrick of Sturgis; a sister-in-law, Sheilia (Marvin) Maloy of Orlando, Fla.; and many friends that to him were family.
The family will receive friends from 2-4 p.m. and 6-8 p.m. Thursday at the Rosenberg Chapel of Hackman Family Funeral Homes, 807 E. Chicago Road, Sturgis.
Funeral services celebrating the life of Brian Karl Fox will be held at 11 a.m. Friday at the funeral home. Pastor Corey Happner will officiate. A graveside committal will follow the service at Oak Lawn Cemetery in Sturgis.
Memorial donations to the family would be appreciated.
His obituary is also at www.hackmanfamilyfuneralhomes.com, where personal messages of support may be left for the family.