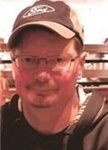 Derek Todd Howard, age 46, of Bronson, and formerly of Union City, passed away Sunday, July 9, 2017, at his home after a 10-month battle with Metastatic Melanoma.
Derek was born Dec. 8, 1970, in Norfolk, Va., a son to Gary B. and Rebecca (Todd) Howard.
On Sept. 13, 2016, he married Sarah Tyler in Battle Creek.
He graduated from Green Run High School in Virginia Beach, Va., and later served in the U. S. Army from 1992 to 1995.
Derek had been employed by the U.S. Postal service as a clerk in Coldwater.
He was a coach for the boys wrestling team and football team in Union City for several years. He enjoyed fishing, hunting, gardening and loved time spent with his family. He had been very active with his children's school activities.
He is survived by his wife, Sarah Howard of Bronson; three children, twin sons Taylor Howard of Bronson and Tyler Howard of Kalamazoo and daughter Alyssa Howard of Sherwood; step son, Tyler Wirtz of Bronson; father, Gary B. Howard of Windsor, Va.; mother and step father, Rebecca Howard and Raymond Bossola of Virginia Beach, Va.; brother Britt (Kirsten) Howard of Elizabeth City, SC; several nieces and nephews; father and mother in law, Lloyd and Mary Tyler of Burr Oak; sister-in-law, Cherie (Damien) Adkins of Portage; and brother-in-law Mathew (Kathy) Tyler of Centreville.
The family will receive relatives and friends on Wednesday at the Schipper Funeral Home LTD. in Colon from 2-4 p.m. and 6-8 p.m. Funeral services and military honors will take place Thursday, July 13, 2017, at 11 a.m. at the New Beginnings Church in Sturgis, with Pastor Randy Evans officiating. Cremation will follow with private burial of ashes at a later date.
If desired, memorials may be made in memory of Derek to the family.