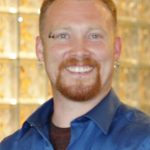 Dustin "Chevy" Mitchell Cole, age 29, of Constantine, passed away on Friday, July 7th, 2017 at Bronson Methodist Hospital from injuries sustained in an automobile accident. He was born November 18, 1987. Dustin attended Three Rivers Schools and was currently working at Royal Cargo, Middlebury. He attended Riverside Church. On August 13, 2016 he married his high school love Tonya Knapp. Dustin loved spending time with his wife, kids and family. He loved to fish, go to the races, the beach and anything outdoors. Dustin had an amazing gift to draw and was always building something. He was always helping others and his smile would light up the room.
Surviving are his wife Tonya Cole, daughters Chevelle Cole, Nevaeh Bacon, Serenitee Wyatt, father Darren (Nicole) Cole, mother Penny (Corey) Wolfe, mother and father-in-law Bonnie and Dave Steele, grandparents Melanie and Robert Boodt, Dan and Donna Cole, grandfather-in-law John Hackler, brother Kurt (Candy) Ream, sisters Tessa Cole, Nichole (Adam) Rains, Stephanie Carpenter, Lauren Carpenter, and many aunts, uncles, nieces and nephews.
Dustin was preceded in death by his twins while expecting in 2016, grandmother Kay Cole, father-in-law Kirk Knapp, grandmother-in-law Shirley Hackler and uncle John Scott Cole.
Relatives and friends will be received Wednesday from 2-4 and 6-8 pm at Eley Funeral Home in Constantine where services will be held at 3 pm Thursday. Pastor Dennis Kirouac, Riverside Church officiating. Cremation will follow services. Online messages may be left for the family at www.eleyfuneralhomes.com. Memorial contributions may be directed to the family.