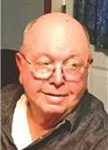 Floyd Alfred Astling, age 80, passed away Thursday, July 20, 2017, following a brief illness. He spent his remaining days in the care of Grace Healthcare in Three Rivers.
Floyd was born Aug. 30, 1936, at the Constantine Hospital in Constantine. He was the son of the late Charles H. and Myrtle K. (Schutt) Astling.
He was a well-known resident of White Pigeon Township for most of his life. As a youth, Floyd spent most of his days with his grandparents, Floyd and Bessie Schutt of Mottville. During the summer he would help tend to his grandparents' farm. This allowed him to excel at dairy production through the 4-H program, in which he received many special awards. In addition to 4-H, he was a member of the Boy Scouts of America, as well as a member of the White Pigeon Bowling Association. He attended White Pigeon Community Schools and received his diploma in 1955.
After high school, he was employed through various agencies, including Gray Brothers Stamping, White Pigeon Feed Mill, Three Rivers Feed Mill and Maynard Stubig Construction. Finally in 1969, he was able to embrace his true passion and opened a construction business with his son, thus starting Astling and Son Construction.
On May 31, 1958, he married Carol D. Schug. Before their divorce, they conceived two children, Scott A. and Bruce D.
On July 13, 1964, Floyd remarried. Donna V. Salter was happily married to him until her death on Dec. 25, 2005.
During his life, Floyd enjoyed being informed on current events, both local and national. He was an avid watcher of the Weather Channel. He also enjoyed vacationing in Florida, visiting both family and friends. He frequently spent time with Alva and Kenny Abbs while down South. His biggest enjoyment was cruising around town with his faitherful companion, "Dutch." He always had a soft spot for his pets. He even purchased flowers and extra treats for exeptional veterinarian visits.
Surviving are sons Karl (Karen) Astling of White Pigeon and Scott Case of Michigan; daughter, Mary Morris; three granddaughters, Kasey Willis, Paige Willis, both of White Pigeon, and Autumn (LaVon) Miller of LaGrange, Ind.; four great-grandsons, Mason Lytle, Timothy Miller, Seth Miller and Leeland Miller; one sister, Mary (John) Eipperle of Benzonia; one brother, Dick (Barbara) Astling of Branch; and several nieces and nephews.
He was preceded in death by both parents; his wife, Donna; and a son, Bruce Case who passed in 2014.
A celebration of life will be held at The Chicago Ritz on East Chicago Road, White Pigeon, from 1-3 p.m. Saturday, July 29.
Arrangements are entrusted to Farrand Funeral Home of White Pigeon.
Memorial donations may be directed to the White Pigeon Lions Club. Envelopes are available at the funeral home.