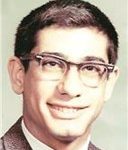 Harry William West, age 69, of Sturgis, passed away Wednesday afternoon June 28, 2017, at Bronson Methodist Hospital in Kalamazoo.
He was born April 25, 1948, in Sturgis, a son of the late George L. and Martha (Katz) West.
Harry resided most of his life in Sturgis, with the exception of when he lived in Alaska and Minnesota.
Harry was a heavy-equipment operator and owned and operated West Development Corporation and Katz Drags, developing and constructing baseball fields throughout the Midwest. Those businesses were founded through Harry's true love for the game of baseball. While in Alaska, he coached baseball for several years. His teams won numerous tournaments. In 1978, they were Anchorage Class C champions. In that same year and also in 1979, they were runner-up in the state championship. Also while in Alaska, he worked heavy equipment on the oil line and owned and operated a bar.
Harry was proud to have served his country in the U.S. Air Force from 1966-1970 as a radar operator, earning the rank of sergeant. He was a 1966 graduate of Sturgis High School, where he was known by many as Tonto. Harry was a certified diver and enjoyed fishing, hunting, traveling and playing cards, racquetball and tennis.
He is survived by a daughter, Raphaela Gaskill of Sun City, Ariz.; a brother, Mitchell West of Lawrence; two sisters, Georgia Ann Kelly of LaGrange, Ind., and Alice (George) Butz of Sturgis; and several nieces and nephews.
In accordance with his wishes, cremation has taken place. Private burial with full military honors being conferred by Capt. John J. Kelley Post #1355 VFW and the U.S. Air Force Honor Guard will be held at Oak Lawn Cemetery in Sturgis. A gathering of family and friends to celebrate and honor the life of Harry West will be held beginning at 5:30 P.M. Friday at Dragon Buffet in Sturgis.
The Hackman Chapel of Hackman Family Funeral Homes, 114 S. Nottawa St., Sturgis, is entrusted with arrangements.
Memorial donations would be appreciated to the charity of one's own choice.
His obituary is also at www.hackmanfamilyfuneralhomes.com, where personal messages of support may be left for the family.