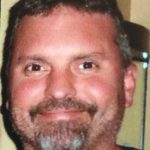 Jason Allen Bottger, age 42, of Sturgis, passed away suddenly at home Saturday, July 15, 2017. He was born July 21, 1974 in Greenville, South Carolina to Dennis and Penny (Daugherty) Bottger.
Jason moved to Three Rivers from South Carolina in 1984.  He was a graduate of Three Rivers High School class of 1992. Jason loved to play the drums and playing with his band "Ruckuzz 2.0". During sunny days he could be found at the golf course playing a round of 18 holes. On August 22, 1998 he was united in marriage to wife, Amy Wheeler at First Presbyterian Church of Three Rivers. His true passion was spending time with his wife and son and the many friends Jason cherished through his life.  Those who knew him will remember his wonderful smile and sense of humor.
He is survived by his loving wife Amy, and their son Sebastian Bottger; Parents Dennis (Sandy) Bottger and Penny (Bill) Gearhart; Brother, Bryan (Ammie) Bottger; Sisters Lainie (Rich) Wheat, and April (Todd) Kane; Father and Mother in law, Donald and Carol Wheeler; Brother In-law Aaron Wheeler; Sister In-law Angela (Scott) Taylor; Aunt and Uncle, Doug and Linda Bottger and very special friends, Tony (Ellen) Mancino and their family.  Several nieces and nephews and many close friends.
Visitation will be held Wednesday, July 19, 2017, from 2-4 p.m. and 6-8 p.m. at Hohner Funeral Home.  
Funeral services will be held Thursday, July 20, 2017, at 11:00 a.m. at Hohner Funeral Home, 1004 Arnold St., Three Rivers, MI with Pastor John Sears officiating.
Memorial donations may be made to the Jason A. Bottger Golf Scholarship Fund (checks payable to Amy Bottger).  Online condolences may be left at www.hohnerfh.com.