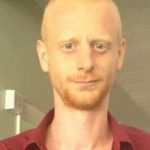 Joseph James Andrus, age 35, of Ann Arbor, and formerly of Sturgis, passed away unexpectedly Monday, July 17, 2017 at his home.
He was born December 5, 1981 in Kingsville, Texas son of William and Diane (Barnett) Andrus.
He resided in Ann Arbor for the past 3 years but Joe lived as most of us only threaten to do. He lived the life of a free spirit traveling throughout the United States.
He was an entrepreneur and a member of the Masonic lodge. Joe enjoyed biking, hiking, nature and the environment surrounding him. He had hobbies and enjoyments but what he truly cherished was time spent with his family especially his nieces and nephews that he so dearly loved. His love for his family is evident in his favorite saying… "I'll host a family dinner".
He is survived by his mother and step-father; Diane and Todd Poley; father: William Andrus; step-mother: Brittany Andrus; brothers and sisters: Susan (Scott) Bressler, Nick (Logan) Andrus, Sandy (Conner) Shear, Carl (Lenae) Schultz, Nancy (Mike) Schultz, Julia Andrus and Lindsay Andrus; nieces and nephews: Makayla Cary, Alex Cary, Bella "Burrito" Bressler, Ethan Andres, Ayden Chapman, Alessa Bressler, Piper Shear, Raiden Andrus, Aubriahna Chapman, Lola Shear and Nolen Andrus; grandparents: Jim and Ruth Andrus and Ed and Sandy Varbidian; several aunts and uncles and many who loved him.
In accordance with family wishes cremation has taken place. A memorial service honoring and celebrating the life of Joseph James Andrus will be held at 11:00 A.M. Friday at the Hackman Chapel of Hackman Family Funeral Homes, 114 S. Nottawa St., Sturgis, MI 49091, 269-651-2331.
Memorial donations would be appreciated to the family c/o: Diane Poley, 301 S. Monroe St., Sturgis, MI 49091, 269-651-2331.