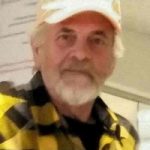 John Edward Thoendel, Sr., age 66, of Vandalia, died peacefully Friday, July 21, 2017 in the comfort of his family's presence in his daughter's residence.
He was born July 24, 1950 in Cassopolis to Adolph and Martha Thoendel.
His parents preceded him in death. He was also preceded by one daughter, Nykole Thoendel.
John served honorably in the U.S. Army in Korea and Vietnam. He never missed a day of work and loved to hunt.
John will be greatly missed by family and friends. He is survived by two daughters, Stephanie (Steve) Sequin of Constantine, Lynette Williamson of Ankeny, Iowa; one son, John Thoendel, Jr. of Vandalia; four grandchildren, Courtney Corrighan, Brittany Corrighan, James Sequin, Katlyn Sequin, all of Constantine; three great grandchildren, Landyn Pelham, Aliviah Pelham, Alayna Corrighan; two sisters, Esther Trimble of Lake Placid, Florida, Janice Longenecker of Cassopolis; one brother, Marvin (Kay) Ross of Elkhart; two nieces, Tracey (Jeff) Baker, Jami Cabana; and one nephew, Chad Cabana.
Family and friends will gather Wednesday, July 26, 2017 from 5:00 p.m. until 7:00 p.m. in Connelly Chapel Wagner Family Funerals, 202 North Broadway Street, Cassopolis, for a time of telling stories and sharing memories. Mr. Thoendel will be laid to rest Thursday, July 27, 2017 at 2:30 p.m. in Fort Custer National Cemetery in Augusta, Michigan where he will be accorded full Military Honors.
The family prefers memorial contributions in John's name be made to Wagner Family Funerals, 202 North Broadway Street, Cassopolis, Michigan 49031 to help defray final expenses.
Care has been entrusted to Connelly Chapel Wagner Family Funerals, Cassopolis. Please share a memory or a message.