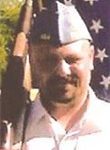 Adam M. Frisbie, age 35, of Colon, passed away unexpectedly Friday, Aug. 18, 2017, from injuries he received in an automobile accident.
Adam was born June 15, 1982, in Kalamazoo, a son to Larry M. and Vickie L. (Collins) Frisbie.
He had lived all of his life in Colon, graduating from Colon High School with the Class of 2001. Adam enjoyed the out of doors, hunting, fishing and mushrooming, but most of all he loved time spent with his children.
He had owned and operated AMF Tree Service in Colon and was presently working for R. Smith and Sons Sand and Gravel of Sturgis.
He is survived by two children Adam M. Frisbie Jr. and Macy Frisbie; mother Vickie L. Frisbie; aunt Janet (David) Volosky; uncle Loren (Sherry) Frisbie; and cousin Kory (Jamie) Frisbie, all of Colon and cousin Jody Carr of Athens.
He was preceded in death by his father Larry Frisbie; grandparents Mahlon and Anita Frisbie and Robert Collins and Mary Fuller.
The family will receive relatives and friends on Thursday, Aug. 24, 2017, from 3-5 p.m. at the Schipper Funeral Home LTD. in Colon. A memorial service will then be held at 5 p.m. from the funeral home with Rev. David J. Farrell officiating. Private burial of ashes will take place at a later date in South Colon Cemetery.
If desired memorials may be made in memory of Adam to the family for an education fund for his children.