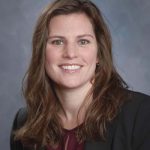 St. Joseph County Prosecutor John McDonough has announced a key member of the department's team has accepted a job working for the state.
Chief assistant prosecutor Erin Harrington, 38, this week issued her resignation effective Aug. 21, according to McDonough. He said Harrington has taken a job working for the Michigan Attorney General's office in Lansing.
McDonough said Harrington's nine years as a member of the county prosecutor's office has led to her becoming an advocate for all victims of crime. McDonough said he is losing a tremendous colleague, and an even better person and friend.
A Portage native and Three Rivers resident the past eight years, Harrington has served as president of the county's bar association and a youth soccer coach in Three Rivers.
Harrington has a master's degree in social work.
She was unsuccessful in her bid for the Three Rivers Community Schools Board of Education last November.