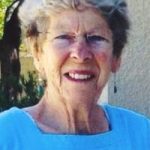 Donna J. White, age 85, passed away peacefully at home on Sunday, July 16, 2017. She was born in 1931 in Flint, the daughter of Doris Brown and Lloyd Cook.
She graduated from Grand Blanc High School and then Bronson Methodist Hospital School of Nursing in Kalamazoo where she became a registered nurse. She married Albert White in 1952. Donna and Al raised their family in Portage. After moving to Brigham Street, the family installed a built-in swimming pool and their house became a busy place in the summer as many neighbors came over to swim and BBQ.
The family also spent many carefree days at nearby Crooked Lake in Texas Corners in the company of Al's sister, Pauline Crawford, her husband Rayman, and their son, Larry where they water skied and swam in the summer and enjoyed riding the snowmobile (one of the first commercially available) in the winter.
In 1972, they moved to Three Rivers, where Al was the president of the American National Bank branch there (now Fifth Third). They made many lifelong friends in the community. After Al's retirement, they enjoyed traveling across the country in their trailer or motorhome and meeting many friends through the Escapees RV Club. She and Al settled in Arizona to be nearer to their grandchildren.
She was a lover of dogs; in her later years her Bichon, Mistie, stayed close by her side. Throughout her life, Donna enjoyed reading; she was a voracious reader and tracked the titles of every book she finished (as well as a tally sheet with hundreds of marks!), she also enjoyed card games (she was excellent at bridge), and travel.
Donna is survived by her children, daughter, Teri Newton (Jon) of Seattle, Wash., daughter Kathleen Valenzuela (Ray) of Anderson, Calif., daughter Christy Morse (John) of Germany, and daughter Julie White (Jonathan May) of Tucson, Ariz.; four siblings, June Brancheau, Coralee Landry (Grant Williams), Neila Pardue (Mike), and Lynn Kelly (Carl).
She was preceded in death by her older brother Gerald R. Cook (Zelda) and by her parents.
The Neptune Society, 6781 N. Thornydale, Tucson, Ariz. is assisting the family. It is suggested that memorials may be made to the American Heart Association, your local library, or the charity of your choice.