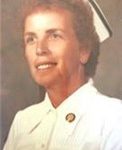 Helen G. Stuby, 82, of White Pigeon, died Friday, Aug, 18, 2017, at Thurston Woods Village in Sturgis following an extended illness.
She was born April 1, 1935, in Monroe, Mich., the daughter of Alexander M. and Laura C. (Miller) Stenhouse.
She was a resident of the White Pigeon area since 1955, coming from Wisconsin. She was a member of the First Presbyterian church, was a church elder, a past den mother, a member of the local card club and the Modernettes. She enjoyed square dancing and volunteer work.
She was a teacher's aide for White Pigeon Community Schools, a LPN at Sturgis Hospital from 1978-1992 and and LPN for Thurston Woods and an on-call nurse.
On Sept. 26, 1953, she married Floyd Benash. He died May 10, 1960.
On Nov. 23, 1962, she married Earl E. Stuby at the First Presbyterian Church in White Pigeon. He survives, along with daughter Cindy (Bob) Tuesley of Portage; son, Jack (Peggy) Benash of Clermont, Fla.; 10 grandchildren; 10 great-grandchildren; two sisters, Laura (Rex) Kershner of White Pigeon and Jenny (LeRoy) Husted of New Port Richie, Fla.; several nieces and nephews.
She was preceded in death by her parents; first husband; daughter, Sue Bir; son, Donald Stuby; and a sister, Dorothy Richardson.
Relatives and friends may call from 2-4 p.m. and 6-8 p.m. Sunday at the Farrand Funeral Home in White Pigeon. Services will be at 11 a.m. Monday at the First Presbyterian Church in White Pigeon with Rev. Steve Kaszar officiating. Interment will be in White Pigeon Township Cemetery.
Donations may be directed to the Parkinson Foundation of Michigan or the First Presbyterian Church of White Pigeon.