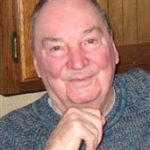 Gerald "Jerry" Glass, age 85, of Three Rivers passed away on Thursday, August 3, 2017 at Borgess Medical Center after a short illness, surrounded by his family.
Jerry was born on March 23, 1932, in Porter Twp., Cass County, the son of Charles and Helen (Kilgore) Glass. He was married to Patricia Harvey from 1951 to 1965. She was the mother of his four children and preceded him in death. He was a U.S. Army veteran whom served honorably from 1955 to 1957 and was also an Army Reserve member until 1963.
He owned and operated a farm west of Three Rivers from 1958 until 1970. He then owned and operated a successful mobile home park located on his farm property. He also loved to race his stock car with his son, John. After selling his mobile home park, Jerry enjoyed raising a small herd of bison. In his younger years he spent many years with 4-H and raised Betsy, whom became the championship cow. He enjoyed spending time outdoors, tending to his land, and cherishing his children and grandchildren.
Jerry is survived by his children, son, Douglas (Kay Garland) Glass of Three Rivers, daughter Jerry Roxanne (Scott ) Johnson of Ypsilanti MI., daughter Susan (Ed) Quigley of Three Rivers, son, John (Connie) Glass of Three Rivers; six grandchildren; six great grandchildren; one great great grandchild and several nieces and nephews.
He was preceded in death by his parents; sisters, Pauline Traverse, Norma Jessup, Ruth Glass, brother, Robert Glass, and grandson, Kevin Glass.
The family will receive friends from 11:00 a.m. until time of funeral services beginning at 1:00 p.m. on Tuesday, August 8, 2017 at Hohner Funeral Home with Pastor Robert Doane officiating. Interment will be held at Shavehead Lake Cemetery, Porter Twp, Cass County, MI.
Memorial donations may be directed to the Charity of One's Choice. Envelopes available at Hohner Funeral Home in care of arrangements.