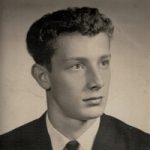 Jerry O. Hamilton, 73, of Centreville, passed away on Sunday, August 13, 2017 at his home. He was born April 5, 1944 in Centreville, a son of Phillip and Margaret (Loudenslager) Hamilton. Jerry graduated from Centreville High School in 1962. On September 6, 1963 he married Barbara E. Motter at the Penn Quaker Church in Cass County. He served in the US Navy Seabees from 1966 to 1968. Jerry was a member of Three Rivers American Legion, and enjoyed gardening, fishing and yardwork. He worked at St. Joseph County Road Commission in Three Rivers and Centreville from 1968 until retirement in 1996.
Surviving are his wife Barbara Hamilton, Centreville, daughter Amy Hamilton, Chicago, IL, son Owen (Cara Wheeler) Hamilton and their children Charles, Joseph, Sam, Zachary, Matthew and Alexander, of Constantine, daughter Charity (Ben) Nighswonger and their children Abigail and Grace, of Centreville, and sister Janet Dudley of Three Rivers. He was preceded in death by his parents and sister Susan Knapp.
Relatives and friends will be received Wednesday from 6 – 8 pm at Eley Funeral Home in Centreville. Religious services will be held 11 am Thursday at the funeral home with Pastor Gary Carr, Corey Church of the Nazarene, officiating. Burial will be in Lakeside Cemetery, Colon. Memorial contributions may be directed to Three Rivers American Legion. Online messages may be left for the family at www.eleyfuneralhomes.com.