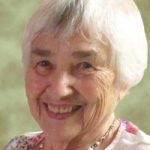 Joan Peck, of Portage, went to be with the Lord on Friday, Aug. 4, 2017 at the age of 92.
Joan was born July 22, 1925 in South Bend, to the late Robert and Fern (Dowell) McCombs. She was married to William H. Peck of Kalamazoo in 1950. After graduating, Joan worked for Indiana Bell. She then moved to Kalamazoo.
In 1971, her family moved to Marcellus, where they spent 43 years. She worked for GTE until her retirement in 1986.
Joan loved everything beautiful; flowers, glassware, dishes. She had a magnificent flower garden where she grew then dried flowers to make arrangements and wreaths for her family and friends. Later, she learned to china paint.
Another passion of Joan's was "antiquing" both near and far. She loved the thrill of the hunt, finding that special dish, table, lamp or piece of glass.
Joan is survived by her two children: David (Karen) Peck of Howell, and Robert "Rob" (Luan) Peck of Vicksburg; four grandchildren: Robert D. Peck, Melissa Daggy, Brian Peck and Elizabeth Peck; and several nieces, nephews and step grandchildren. Her husband: Bill, daughter: Janet Daggy, sister: A. Emiline Knepp, brother: Carl McCombs and twin sister: Jeanette Altman also preceded Joan in death.
The family will greet friends on Friday, Aug. 11, 2017 from 1-2 p.m. at Langeland Family Funeral Homes, Westside Chapel, 3926 S. 9th St., Kalamazoo, where a memorial service will begin at 2 p.m. Pastor James Dyke will officiate. Memorial contributions may be directed to Kalamazoo Gospel Mission or Loaves and Fishes Food Pantry. Please visit Joan's personalized webpage for driving directions or to leave a condolence to her family at www.langelands.com.