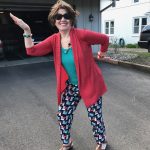 Joy D. Navarre, age 78, of Richfield, Minnesota, passed away peacefully with family by her side on Tuesday, August 15, 2017, at NC Little Hospice Care Facility in Edina, MN. Joy was born April 9, 1939, in Mendon, MI; the daughter of Foster W. and Jean (Tallman) Daugherty. She was a 1957 graduate of Constantine High School. Joy attended the University of Michigan and Western Michigan University, obtaining a teaching degree. Joy married J. Richard Navarre of White Pigeon, in 1966 and they made their home on Klinger Lake. They were later divorced. Joy was a long time resident of Brookfield, WI and enjoyed walking, reading and traveling.
Joy is survived by her three sons, J. Richard Navarre II, MD (Melissa McPheeters, PhD) of Nashville, TN; Jon F. Navarre (Sara) of Tecumseh, MI; and Michael J. Navarre, PhD (Marta Fraboni) of Minneapolis, MN. Joy also has 5 grandchildren, Sophia, Rebecca, Dominick, Paul and Lucca B. Also surviving Joy is her step-mother, Rita (Jetté) Daugherty of South Bend, IN; her three brothers, David (Nancy) Daugherty of South Haven, MI; Dan (Pam Nelsen) Daugherty of Centreville, OH; and Dennis Daugherty of Mattawan, MI and sister-in-law, Barbara (Baechler) Daugherty of Bellevue, WA. Joy was preceded in death by her parents and brother, Roger Daugherty. Joy was resilient, caring and graceful; she will be greatly missed.
A private family funeral will occur at Eley Funeral Home in Constantine with final burial at the Constantine Township Cemetery. In lieu of flowers, memorials gifts can be made to a local charity of your choice in honor of Joy D. Navarre. Online condolences may be left for the family at www.eleyfuneralhomes.com.