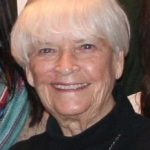 June Louise (McNeal) Rimes, 87, passed away peacefully in her sleep on Tuesday, August 22, 2017.
June was born in Three Rivers on February 14, 1930 to Walter & Hazel (Tefft) McNeal. She was welcomed home by 2 brothers and 1 sister. Later, 2 more sisters were born. Her family lived in Schoolcraft and Three Rivers before purchasing their farm in Marcellus.
On July 31, 1949 she married Carroll (Moon) Rimes at the Marcellus Methodist Church. They have 4 children, Michael Alan, Kerry Lee, Karen Lynn and Michelle Ann. They have 19 grandchildren and 17 great-grandchildren.
June attended Marcellus Schools from 8th grade through her graduation in 1949. During her time in school she played Basketball and was a Cheerleader. She was chosen Queen of the Cherry Pie Baking Contest February 10, 1949. After graduation she attended Beauty School in Kalamazoo and received her Beautician License. She was a beautician in Marcellus and owned her own shop there until becoming a full time housewife and  mother. She was involved in Eastern Star as a Past Matron, the Marcellus Garden Club, and the Home Arts Club. She spent many hours making porcelain dolls, Christmas ornaments and china painting with her sisters.
June and Moon did a lot of traveling to many countries while he was an Insurance Agent in Marcellus. After retirement they purchased a trailer in Windward Isle Park in Sarasota, Florida. They enjoyed 25 years of being snowbirds in Florida during the winters. June also enjoyed watching sunsets at her house on Gravel Lake and at Siesta Key Beach, FL.
June is survived by her husband Carroll, her children Michael (Tami) Rimes, Kerry (Sandy) Rimes, Karen Vaickus, Michelle (Jim) Wagner; all of her grandchildren and great-grandchildren and many nieces & nephews. She was preceded in death by her parents, sister Shirley Schoetzow, brothers, Olen and Gene McNeal, many nephews, her in-laws Mary & Harold Rimes, brother and sister in law Kenneth (Bud) Rimes and Zoe Rimes and one great-grandchild Kevin Leiberman.
The family will receive friends from 10 to 11 am Saturday, September 2, 2017  at the Marcellus United Methodist Church with memorial services following at 11 AM.
In lieu of flowers, memorial donations may be directed to the Marcellus United Methodist Church or The Cystic Fibrosis Foundation.
Arrangements were handled by the Mater-Ralston Funeral Home, Marcellus.