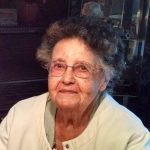 Mary Elizabeth Beechy Miller, age 91, of Sturgis, died on Wednesday, August 2, 2017.
She was born in Lagrange County, Indiana to William and Amanda (Schrock) Beechy on October 6, 1925. Amanda died in 1929 and William married Nora Bontrager March, 1930.
Mary married John E. Miller on February 13, 1945 in Lagrange County, Indiana. John died in November 2002.
Mary is survived by 4 sons; Wyman Miller, Mervin (Marcia) Miller, Bill (Linda) Miller of Sturgis and Marvin (Nancy) Miller of Jones, Michigan. She is survived by three daughters; Margaret (Bill) Clemens of Goshen Indiana, Marilyn (Fred) Schwartz and Amanda (Joe) Yoder of Sturgis.
Also, surviving are 14 grandchildren and 38 great grandchildren, who referred to their beloved Grandmother and Great Grandmother as Grandma Miller, Grandma Mary, or "Miller".
She is survived by three sisters: Katherine (Ora) Weirich of Goshen, Indiana, Alice (Menno) Yoder of Shipshewana, Indiana and Amanda Miller of Chouteau, Oklahoma and one brother Elva Beechy of Millersburg, Indiana. Also surviving is a sister–in–law Jackie Beechy Mazzoni from Matteson, Illinois. She is survived by many nieces and nephews.
Preceding her in death were her husband, parents, one sister, Anna (Amzie) Miller of Wolcottville, Indiana, 4 brothers; Ammon (Ida) Beechy, Shipshewana, Indiana, Vernon Beechy, Sturgis, Michigan, Ray (Georgia) Beechy of Reeding, Michigan and Bill Beechy, Oak Forest, Illinois, and one grandson Mark Miller, Centreville.
Mary was employed by Centreville Schools as Dietician from 1962 to 1973. She was employed by Sturgis Public Schools as Vocational Food Instructor from 1974 to 1987. While employed with Sturgis Schools, she was a leader in developing the programs for Senior Center and GAPS.
Previously, Mary worked at Sturgis Hospital and as cook at Amigo Centre.
She was a life member of Mintdale Women's Club and Locust Grove Mennonite Church in Burr Oak.
Visitation will be at Locust Grove Church from 2-7 pm on Saturday, August 5. A funeral service is scheduled at Locust Grove Mennonite Church at 3 pm on Sunday, August 6, 2017, with visitation from 2-3 pm. Contributions, in Mary's memory, may be made to Amigo Centre, 26455 Banker Street, Sturgis, Michigan 49091. Online condolences may be left for the family at www.eleyfuneralhomes.com