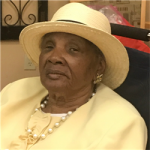 Melvia Colena Hicks, faithful servant of the Lord, was born to Arthur and Alice (Barnes) Kelly on November 30, 1926, in Prentiss, MS.  She and her twelve siblings grew up in the town of Silver Creek, MS.
Melvia moved to Chicago, where she met Sherman Hicks and they were soon united in marriage. They were married for 49 years, until Sherman's passing in 1999.   After being married for a few years, God gave them a vision to move to the village of Jones, Michigan where they would raise eight children.   As their children became older they moved to Three Rivers, so that the children could be actively engaged in school and church activities.  Melvia always put God first.  She instilled the value of love for God in her children and was committed to the scripture Proverbs 22:6, "Train up a child in the way they should go. And when he is old he will not depart from it."
Melvia was a faithful member of Bethel Baptist Church for over 50 years, until she was physically unable to attend. She served in many capacities of the church including Sunday School Teacher, Vacation Bible School Teacher, Pastor's Aide, Children's Choir Director and Children's Church Director.  Though young people found Mrs. Hicks as "someone that didn't play", they knew that she loved them and they loved her in return.  Her Biblical instruction impacted the lives of many young people.  In June 2013, Bethel Baptist Church dedicated the Children's Church in her honor and named it, The Melvia Hicks Center for Children.  This was quite an honor for her and attests to her spiritual walk with Christ.
Melvia loved to cook and spent many years not only cooking for her family but was employed as a cook in various restaurants.  One of her specialties was baking apple pies which family, church and community members enjoyed! She was also employed as a Teacher's Aide in Three Rivers Community Schools and she served as a volunteer at Three Rivers Area Hospital. In spite of her busy life as a mother and wife she found time to enjoy sewing, knitting, crocheting, puzzles, gardening, and fishing.
Even as she began to age, she always acknowledged her love for the Lord.  Her visits with her children were often spent reading scripture, praying, and singing hymns.  She really enjoyed singing hymns and frequently, with a smile on her face she would say, "That was a good one!"
Melvia is survived by all eight of her children. She leaves to cherish her memory, Doris Jean  Elam (Edward) of Flint, MI; Raymond Hicks of Traverse City, MI; Alan Hicks (Berma) of Aurora, CO;  Stephen Hicks (Evangela) of Kalamazoo, MI;  Dr. Sylvia Hicks-Fox (Joseph) of Kalamazoo, MI; Dr. Linda Hicks, of Southfield, MI; Marcus Hicks of Dunwoody, GA and Gerald Hicks (Michelle) of Suwannee, GA;  thirteen grandchildren: Valeria Brown, Herbert Young, Jr. (Renee), Tyrone Hicks (Monica), Troy Hicks (Anna), Jeremiah Hicks, Joshua Hicks, Cordell Hicks, Nicole Hicks, Alan Hicks, Jr., Christopher Hicks, Catrina Hicks, Gabriella Fox, Nicolas Hicks;  ten great grandchildren: Dorin Young, Malcolm Brown (Simone), Malachi Waller, Mya Hicks, Sietie Hicks, Kyah Hicks, Owen Hicks, Kayla Battle, Charles Battle, Jr., Alana Battle;  one great, great grandchild Malcolm Brown, Jr.,  and a host of nieces, nephews, other relatives and friends.  She is also survived by her sisters, Mary Alice Armstrong, Beatrice Hannah, Erma Hunt, Lillie Bridges and brother A.R. Kelly.
Melvia was preceded in death by her parents, Arthur and Alice Kelly, husband, Sherman Hicks; sisters, Floncia Sutton, Ethel K. Wicker, Bertha Newton, Lena K. Suttles, and Leogia Otis; and brothers, Leroy Kelly and Willie Clarence Kelly.
Melvia Hicks transitioned to her heavenly home to be with the Lord on Wednesday, August 2, 2017.
The services will be held at Bethel Baptist Church, 17852 River Road, Three Rivers on Saturday, August 5, 2017, 11am Visitation, 12pm Homegoing Service.  Interment at Riverside Cemetery.
Donations may be directed to the Charity of One's Choice. Envelopes available at Hohner Funeral Home in care of arrangements.