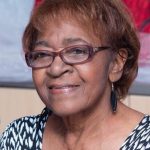 Following a long illness, devoted wife, mother, grandmother, great grandmother, sister, aunt and faithful servant of the living God, Velma Ree (Shelton) Whitten, 75, made her heavenly transition in the early morning hours of Friday, August 4, 2017 surrounded by her loving family.   Born in Stanton, Alabama on August 22, 1941 to parents Thomas Andrew Shelton Sr. and Christanna Harville Shelton, she was the 7th of 10 children.  The family relocated to Three Rivers in 1950.  She was married to Coy Lee Whitten, Sr. on June 23, 1969.
Velma is survived by her beloved husband and children: son Mark Shelton, Three Rivers; daughter Lacheryl Shelton, Three Rivers; son LaChanuj (Sonya) Shelton, Three Rivers; daughter Toshycia Whitten Griggs, Los Angeles, CA; daughter Vercysia Jorge, Three Rivers; son Coy Whitten, Jr., Michigan;  19 grandchildren and 13 great grandchildren.
Velma is also survived by siblings Doris (Harvey) Rollerson of Chicago, IL; Geraldine (Ralph) Humes of Three Rivers; Willastyne (Sterling) Carter of Elkhart; George Leonard (Lorraine) Shelton of Three Rivers; Iverna Shelton of Atlanta, GA; and Shirley Shelton of Kalamazoo.
She was preceded in death by her parents, siblings Odessa (Luther) Mitchell, Thomas Andrew (Bruce) (Mary) Shelton, Jr., Orethia Shelton, and grandson Reenal (Skip) Shelton.
Funeral services will be held at Bethel Baptist Church at 17852 S. River Road, Three Rivers, on Saturday, August 12, 2017.  Family visitation will begin at 11 a.m., followed by the Homegoing celebration at 12 p.m. Online condolences may be left at www.hohnerfh.com.