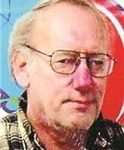 Arthur L. Ellinger, 67, of Sturgis, passed away Saturday, Sept. 9, 2017, in Angola, Ind.
No services will be held at this time. Arrangements are being cared for by Dutcher Funeral Home.
Arthur was born March 12, 1950, in Toledo, Ohio, to Gloria (Symington) Tammarine. He was a veteran of the Vietnam War, serving with the U.S. Marine Corps from Aug. 30, 1967-Aug. 29, 1971.
In 1986, Art married Gloria (Wiser) Hoard. She preceded him in death May 3, 2008.
He worked for many years as the maintenance manager for the former Frye Copy in Sturgis. Art was a member of the American Legion in Sturgis. He enjoyed reading, fishing and shooting firearms. Art was skilled in computers and had a side business fixing them for others.
Art is survived by his stepchildren, Kelly (Rick) Outwater of Bronson, Kenny (Amie) Hoard of Angola, Ind., and Amber (Tony) Wotta of Bronson; his sisters-in-law, Linda (Joe) Snyder of Coldwater and Sheila (Keith) Smith of Fruitland Park, Fla.; siblings Judith Bryant and Joan (David) Mangold, all of Okeechobee, Fla., Nita Tammarine of Sugar Hill, Ga., Michael (Diedra) Tammarine of Colton, Ohio, and Jeffrey (Frances) Tammarine of Liberty Center, Ohio; several grandchildren and great-grandchildren; and special friends Alice, Bob and Sherry, Hoppy, Don, Sherry and many friends from Hillcrest who were like family.
In addition to his wife, he was preceded in death by his mother, Gloria; and a brother, Marion Ellinger. Memorial donations may be directed to Humane Society of Branch County. Online: www.dutcherfh.com.